The dilemmas Pakistan confronts today is clearly...and ironically...reflected in its primary pastime - cricket.
[By Mayank Austen Soofi; Pictures sourced from internet]
Pakistanis love watching song-and-dance films but are tormented by the guilt of having to rely on the great rival India and its bustling Bollywood to sustain their DVD pleasures. Pakistanis find politics entertaining, but the alternate regimes of corrupt politicians and big-mouthed army generals tend to leave them depressed and exhausted.
But there still is left one driving passion that all Pakistanis are proud of without being weighed down by any baggage.


It is cricket.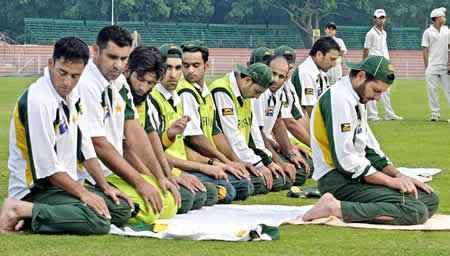 Pakistan Cricket Team Offering Prayers
From London to Lahore, from Lamb Chops to Lamb Kebabs, from Gentlemen to Pathans, it has been a long and consequential journey for this quintessentially English county game. Inherited from the British masters, nurtured in and adapted to the hot dusty grounds of their colonies, cricket in Pakistan has come to acquire a unique Pakistani distinctiveness.


In Pakistan, Cricketers and Dictators are Always on the Edge


In contrast to the kingdom of its origin, cricket has undergone a complete osmosis with its adopted country: it has seeped out as much to Pakistan as it has soaked in from the nation. The relationship has interfused to an extent that now cricket almost perfectly mirrors the turbulence of this republic.


Just like the Pakistani establishment, its cricketers too have a dangerous tendency to step into the line of fire. They are always daring, always adventurous, and sometimes outright foolish.


In October 2006, when the Pakistani players descended in India for the ICC Champions Trophy Cricket Tournament and were still in a tourist mode enjoying the Rajasthani cuisine and palaces, a scandal broke out and shamed the team. Two players were called back following the medical results of testing positive for a banned steroid.


One of the disgraced players was Mr. Shoaib Akhtar.


If the charges are indeed true, and Mr. Akthar has to be given a mandatory banishment of two years, it will be highly unlikely for him to crawl back into the field. At 31, he is too old, and the exile will be a sad end to his blazing career.


Mr. Akhtar, an excellent cricketer by all accounts, can blame no one except himself for landing in this soup. In fact he has been constantly trailed by a clouded reputation: there have been unaccounted reports of sex romps in foreign tours, of smoking cannabis in hotel lawns, and dancing in discos - harmless diversions but apparently not in accordance with Pakistani codes of conduct. Besides, Mr. Akhtar is said to have a massive chunk of ego bundled within him that makes it difficult for co-players.
Now this talented cricket star has put his entire career on jeopardy. Why did he take drugs? Why was he so careless with his public image? Why did he decide to risk it all?


There are no answers at this stage but Mr. Akhtar's fate resembles the daredevilry of his country's ruling establishment.


In the spring of 1999, Pakistan had everything going for it: a working democracy, an atom bomb and Indians on the talking table. By the summer it had infiltrated its army into the Indian-held Kashmi, imposed itself into a low-key battle with its giant neighbor, lost the war, had its nose rubbed off by US diplomats and diluted the goodwill of the world for its Kashmir cause.


Why was the country, particularly its army, so careless? Why did not it's strategists study harder on the possible implications of such reckless behavior? Why did they decide to risk it all?


Pakistan Cricketer's Doomed Marriage with a Westerner Mirrors Pakistan's Failed Relationship with the West
Handsome, toned, hairy-chested Mr. Imran Khan was the international playboy. Once voted as the sexist man of the year by an Australian magazine, he continues to be Pakistan's most respected cricketer.


Mr. Khan's life is the very epitome of what the new ideals of Pakistan as a modern Muslim nation should be. Being born in the Pashtun tribe, his origins are thus inexorably linked to the soil of Pakistan's heritage; raised in a conservative Islamic household, he was nevertheless instilled with the secular values by being educated in a school run by Christian missionaries.


In his cricketing life, it was under his captainship that Pakistan went on to won its first and only Cricket World Cup victory; later he displayed his kinder instincts by opening a cancer hospital that provides free treatment to poor patients. Gradually he even shed the trappings of his colorful life and started inclining towards Islam - in a powerful but subtle manner. Mr. Khan is deeply religious but never flaunts his born-again religiosity in public.


And finally, Mr. Khan jumped into politics. Though unsuccessful, he is one of the very few uncorrupt politicians in the country whom Pakistanis genuinely admire.


Undoubtedly, Mr. Khan possesses the essence of the best the east and west has to offer. Even the woman he married could not have been a better choice - Jemima Goldsmith, a London-based woman of Jewish origin!


Unfortunately, the marriage ended in a divorce in 2004.


Does Mr. Imran Khan's short-lived affair with the west reflect in Pakistan's on-off relationship with USA?


Pakistan enjoyed a close camaraderie with Ronald Regan's White House during the cold war years. With the retreat of Soviets from Afghanistan, the American warmth disappeared; the lowest point was reached during Bill Clinton's state visit in 2002 when he pointedly did not shake hands with Pervez Musharraf in front of the TV cameras; however since 9/11, US has again fallen in an uncertain love with Pakistan.


A Cricketer Related to a Terrorist; A Country Linked to Terror


Another cricketer Mr. Javed Miandad was the greatest Test run-scorer Pakistan has ever produced. Known for being extremely abrasive, he was infamous for uttering foul abuse at his co-players, and especially at players from the rival team -- particularly so when the rivals happened to be Indians.


In 2005, Mr. Miandad married his son Junaid to Mahrukh, thereby making his boy the son-in-law of one of the most dreaded terrorists in South Asia.


Mahrukh happens to be the daughter of Dawood Ibrahim, an Indian gangster-turned-terrorist believed to be sheltered by Pakistan. Mr. Ibrahim allegedly masterminded a series of single-day bomb blasts in the financial hubs of Bombay in 1993 that left more than three hundred dead and one thousand injured. This worst terrorist attack in India's history was the first draft of 9/11!


Disturbingly, many respectable people of Pakistan's high society attended the various wedding ceremonies, apparently not minding the possibility of being hosted by a terrorist.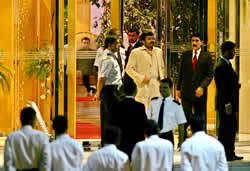 Mr. Miandad, in White, during his Daughter's Wedding Banquet
This close affinity of an acclaimed cricketer with a criminal of Mr. Ibrahim's repute, and society's sanction on top of it, confirms the fear of many that Pakistan has a high tolerance level for international terrorists.


Growing Fanaticism - Inside the Stadium; Inside the Country


Gone are the good godless days of ODIs and three-day cricket test series. Allah's army has invaded the pavilions. Beards, and not grass, now sprout on the pitches. The empty corners of cricket stadiums in Multan and Quetta reverberate with the sound of azaan, not cricket commentaries. The might of Islam's glamor has spread from minarets to wooden cricket bats.

Lately there have been observations concerning 'not-so-observant' Muslim cricketers being pressured into performing prayers if they wish to retain their place in the team. At least one Pakistani newspaper has expressed concern about the growing 'Islamisation of our cricket team.'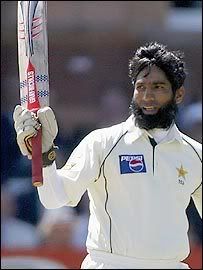 For instance, Mr. Mohammad Yousuf is a pious cricketer with a long, flowing beard. After hitting a century, he prostrates himself towards Mecca in gratitude. However, it was not always like this. The cricketer was originally not Mohammad but simply Yousuf and was one of the few Christians in the Pakistan cricket team. In 2005, he converted to Islam. Incidentally, he is not the lone bearded mullah among his colleagues.


Talk about turning the playing field into a proselytizing field!


This gradual Islamisation of the Pakistani cricket team is reflected in the changing values of the country, too. Noted Pakistani columnist Irfan Hussain recently commented that the society in the sixties did not require women to be draped. He observed that as the country has slid backwards, "unkempt beards have sprouted, green turbans have mushroomed, and millions of square yards of black fabric shroud millions of women."


Despair Not Desired, For Now


However, despite the religious conservatism leaking out of mosques and private spaces, Pakistan has reasons to remain optimistic.


Remember, Mr. Yousuf had converted to Islam willingly and the popularity he enjoys among Pakistanis dates back to his life as an infidel man.


Remember, Mr. Miandad had to go all the way to Dubai to marry his son to a terrorist's daughter. Even Pakistan was uncomfortable by this relationship and did not let the wedding to be performed on its soil.


Remember, it was Pakistan's National Cricket Board, and not a foreign sport authority, that took the initiative to conduct the medical tests on the basis of which it recalled Mr. Shoaib Akhtar, its star player. This proves that Pakistan has the willingness to correct itself. The country has the courage to confront its demons.


And remember, Mr. Imran Khan's ex-wife may be presently dating Hugh Grant in London, but the proud tribal Pathan still consider her a friend and has announced no plans of an honor killing.


Most interestingly, Ms. Goldsmith's two sons - Qasim and Sulaiman - are residents of Pakistan. That the half-Jewish and half-Muslim blood is flowing through the veins of two boys whose father can be Pakistan's future Prime Minister spells good omen for the world peace. Doesn't it?


Meanwhile, hope continues to float.


Pakistan Paindabad - Long live Pakistan.